CKEditor 4 WYSIWYG editor component for Vue.js
The official CKEditor 4 WYSIWYG editor component for Vue.js.
We are looking forward to your feedback! You can report any issues, ideas or feature requests on the integration issues page.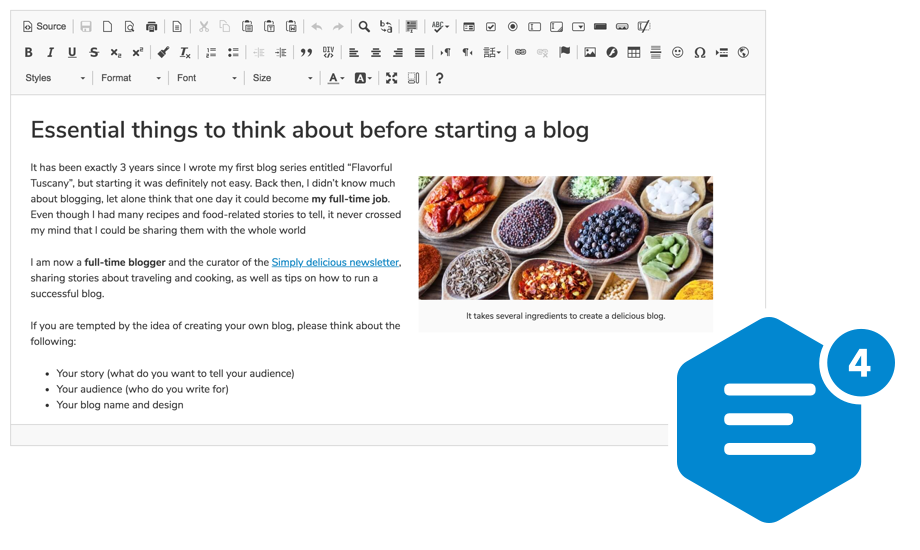 Installation and usage
To install the CKEditor 4 component for Vue.js from npm, simply run:
npm install ckeditor4-vue

Then use it by calling the Vue.use() method:
And use the <ckeditor /> component in your template:
Instead of using ES6 imports, the component can also be added via a direct script include:
and used in the same way as with ES6 imports:
Refer to the official CKEditor 4 Vue component documentation for more information about the installation process.
Documentation and examples
See the CKEditor 4 WYSIWYG Editor Vue Integration article in the CKEditor 4 documentation.
You can also check out the CKEditor 4 WYSIWYG Editor Vue Integration samples in CKEditor 4 Examples.
Browser support
The CKEditor 4 Vue component works with all the supported browsers except for Internet Explorer.
To enable Internet Explorer 11 support, instead of the standard import you need to import a specific dist/legacy.js file containing all required polyfills:
Note: Even though CKEditor 4 supports older Internet Explorer versions including IE8, IE9 and IE10, the Vue integration is only supported in the latest Internet Explorer 11.
Contributing
After cloning this repository, install necessary dependencies:
npm install

Executing tests
Run:
npm run test

If you are going to change the source files (ones located in the src/ directory), remember about rebuilding the package. You can use npm run develop in order to do it automatically.
Building the package
Build a minified version of the package that is ready to be published:
npm run build

License
Copyright (c) 2003-2020, CKSource - Frederico Knabben. All rights reserved.
Licensed under the terms of any of the following licenses at your choice:
For full details about the license, please check the LICENSE.md file.